Thinking of removing your old window tint?
Here at Andres Mobile Tinting, we specialise in residential and commercial window tinting across the Gold Coast! If you think it's time to remove your old window tint, look no further. We hope to give you the best tips to consider when removing old window tint and choosing something new for your office or your home window tinting solution.
What to consider before removing your old window tint?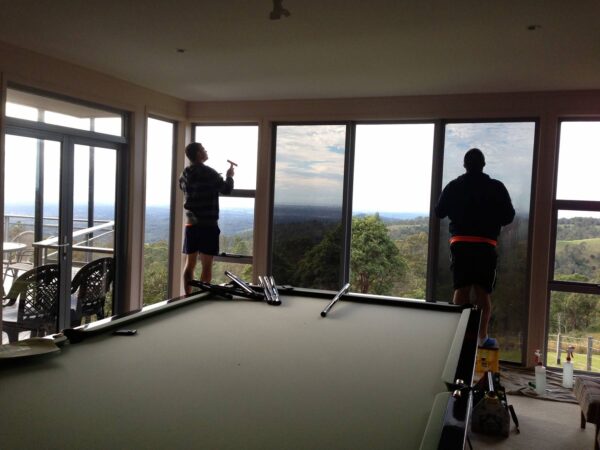 Here are 5 top tips on what to consider.
Possibly the most important thing to consider when removing your old window tint is whether you are the right person for the job.
Consider the safety of yourself and also the safety of your windows underneath the tint!
It's important to avoid using tools that are likely to scratch or damage your window. We would recommend against using razor blades if you are inexperienced because that could damage the window underneath the tint film.
Age of the window tint film. Depending on how long your window tint has been on your windows, it might be a bit more difficult to remove. If you find yourself in this situation, it's worth considering whether an experienced professional is better suited to the job at hand.
Consider the window tinting product options that you can use to replace the old film with.
Are you looking to increase security or looking for a standard window tint replacement?
Let's dive into all those questions a bit deeper.
What product options are available for replacement?
There are a variety of options to choose from when considering an available replacement window tint. For example, at Andres Mobile Tinting, we offer decorative/custom window tint, security tint, and regular tint. A custom/decorative window tint enables you to match your window tint to your home interior whilst also adding a personal touch to your house.
The security tint is designed to increase the security of your home while a regular window tint works to reduce your home's energy usage as well as protecting your property from potential damage by UV rays.
What is the difference between security and normal tint?
Both normal tint and security tint work to protect your home from UV rays, lower your energy bills and boost the visual appeal of your house.
If you are interested in finding out more about how does window tinting keep you warm in winter? Talk to our expert team today.
The main difference between a security tint and a normal tint is the increased security that a security tint provides – for example, security tints form a heavy-duty barrier on top of your glass that reduces the chances of it being smashed or broken externally.
If the glass within the tint shatters, the broken shards will be held together by the tint which is also advantageous to preventing injury.
If you're looking for a new window tint that increases the safety of your home, a security window tint is a perfect choice.
When should you think about replacing your old window tint?
When replacing your old window tint, it's important to consider whether you were happy with the style of tint that you used to have or whether you think you might like to try a different style of tint.
Consider whether you liked the visual aesthetic of the window tint – if not, perhaps you are more likely to gravitate towards a decorative or custom-designed window tint for your home? If you feel like your home needs more security now than it did when you first bought window tint, now could be the time to invest in a security tint.
Make sure you're making the best choice for your home's needs when replacing your window tint. If you are looking to talk to an expert, the team at Andres Mobile Tinting has 25 years of experience in this field and is available for a chat. Call us today on 1800 885 464.
For more information about our window tinting services at Andres Mobile Tinting, contact us today.